Japanese Sakura bark tea caddy(Cherry wood)

and other wooden accessories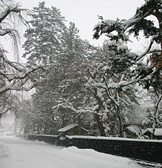 Sakura bark products were first crafted as a sideline by Samurai living in Kakunodate, Akita-pref. (Northern Honshu island) approx. 200 years ago. The craft has been passed down through the generations and is still practised today. The color of sakura bark gets deeper and more lustrous the more it is used. The best way to conserve these items' beauty is to use them on a daily basis. (See care instructions at lower part of the sakura bark section)
The photo on the left shows a Samurai house in Kakunodate in the snow.
Storing your tea leaves
Green tea is best appreciated at its freshest. The quality of the tea leaves starts deteriorating as soon as the package is opened, so it is recommended that steps be taken to keep the tea fresh as long as possible.
Storing in a refrigerator is the best option. (Care should be taken to wrap the package in an airtight freezer bag or thick plastic bags secured with elastic bands in order to keep the tea from absorbing food smells). After taking tea leaves out of the refrigerator, give them time to return to room temperature before opening the package as cold leaves absorb moisture.
Tea caddies will normally keep the tea fresh for about 2 weeks. When using a tea caddy, fill it with just as much tea as you would normally use within 2 weeks. Sakura bark tea caddies have the advantage of absorbing excess moisture from the leaves.


* Sizes and colors may vary slightly due to the fact that Sakura bark is a natural material.
**How Sakura bark tea caddies are made
All the tea caddies in this page hold more than 3.5 oz. (100 g) of tea. (click the picture for more photos)


Sakura bark tea caddy (Small & Large)

Sakura bark is an ideal material for tea caddies as it has properties which regulate the degree of humidity. It was also used for Inro (small case) in the 17th century and for storing tabacco leaves in the 19th & early 20th century.

Small: H 3.5" (9 cm), D 3.2"(8.2cm) / Large: H 4.7" (12 cm), D 3.2" (8.2cm)
Comes in a wooden gift box. Handcrafted in Akita, Japan

Small: US$ 76.00/ Large: US$ 82.00
+
Shipping charges:


The tea caddies featured on this page are all hand-finished. The bark is rubbed with wax to give it a deep luster. However as sakura bark is a natural material, the finish will differ from piece to piece.

Grainy-finish Sakura bark tea caddy (Small & Large)

Small: H 3.5" (9 cm), D 3.2"(8.2cm) /
Large: H 4.7" (12 cm), D 3.2" (8.2cm)
Comes in a wooden gift box. Handcrafted in Akita, Japan

Small: US$ 84.00/ Large: US$ 90.00
+
Shipping charges:
CARE INSTRUCTIONS for cherry wood items
* Do not immerse in water.
* If the products get wet, wipe away any moisture with a soft,dry cloth.
* Exposing the products to extreme heat could result in discoloration or warping. Keep away from heat sources and do not expose to direct sunlight.

The tea caddies may have a strong woody smell when first opened. This is the natural aroma of the wood and perfectly normal. You can lessen the strength of the aroma by placing a small amount of tea leaves in the caddy for a few days. The tea leaves will absorb most of the smell, leaving the caddy ready to use.

---

Sakura bark saucers (S, M, L)
Material: synthetic core encased in sakura bark.
Handcrafted in Akita pref., Japan

Saucer -small (left)
approx. size: diameter 8.9cm / 3.5",height 1.5cm / 0.59"

US$13.00 per piece +Shipping charges
---------------------------------------------------------------------------------
Saucer -medium (right)
approx. size: diameter 10.3cm / 4",height 1.6cm / 0.6"
Saucer -large * also available
approx. size: diameter 12 cm / 4.7",height 1.7cm / 0.6"

US$16.00 per piece +Shipping charges

---------------------------------------------------------------------------------

Saucer - foliated shape (right)

Availability: 1 left


approx. size: diameter 12.4 cm / 4.9",height 1.6cm / 0.6"

US$18.00 per piece +Shipping charges
---------------------------------------------------------------------------------
Saucer - koban shape(left)

SOLD OUT


approx. size: width 12 cm / 4.7",height 1.7cm / 0.6"

US$16.00 per piece +Shipping charges

---

Sakura bark tea scoop

#1 Cherry blossom (upper) - US$5.50

SOLD OUT


#2 leaves (lower) - US$6.50

SOLD OUT



#3 regular type (middle) US$3.50
Length: 3"(7.8cm)

---

Sakura bark trays