Osaka Tin ware (Osaka Naniwa Suzu-ki)
Home > Tin ware


Tin ware has a long history in Japan. First introduced to the country about1300 years ago, tin was considered second only to gold and silver in terms of value and was used to make goods for palaces and shrines.
Later when tea culture arrived from China,it was used to make containers and vessels for tea. Osaka became a major production center when craftsmen came to the city during the Edo period.The business grew rapidly with over 250 craftsmen working there.
Things changed drastically when tin became scarce during the second world war, and it proved impossible to restore the industry to its former glory.
The Osaka Suzu-ki Co. came into being in 1949 when a group of 5 craftsman families banded together to establish a new company.
In 1983 Osaka Suzu-ki products were recognized as a traditional craft (Osaka Naniwa Suzu-ki) by the Ministry of Economy, Trade and Industry. Today a total of 14 craftsmen, three of whom are certified Traditional Craftsmen, ply their trade according to the traditions passed down from their forefathers.
One of the major advantages of tin ware is that it is odorless, making it especially suitable for storing tea, keeping the tea fresh and fragrant.Traditional tea chests used by merchants in the old days were actually coated with tin on the inside because of this quality. Tin also contains a coarse molecular framework which is good at absobing impurities. Thus it is considered the perfect material for sake ware. It has also been used as dinnerware from ancient times and has proved itself to be safe for food use.
All the craftsmen at Osaka Suzu-ki are committed to creating objects that are not just practical but beautiful.
They aim to create something a little different from the mass-produced market, items that are well
worth the price and which are sure to become even more valuable over time.
Some other items we have in our actual store.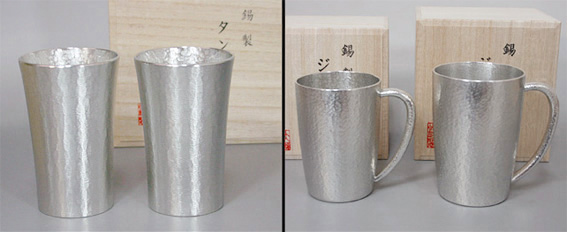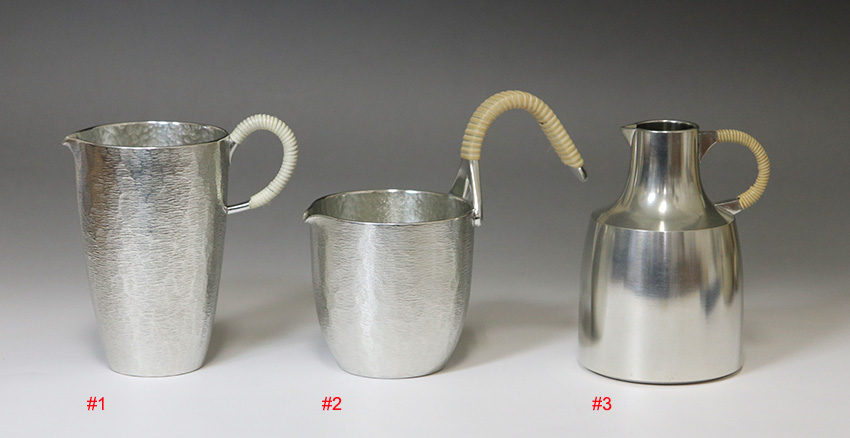 Chirori sake warmer *Comes in a paper gift box.
#1 - 220 ml / 7.4 oz US$122.--
#2 - 180 ml / 6 oz US$122.--
#3 - 210 ml / 7.1 oz US$205.--
Saucers are available in various sizes. (a set of five pcs)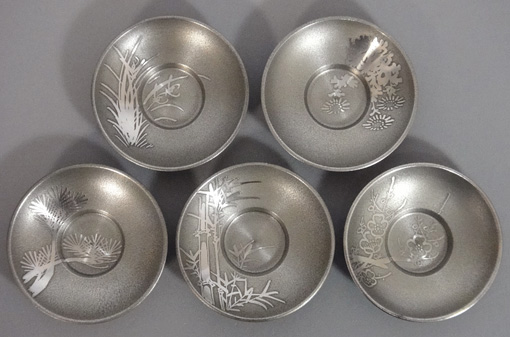 Approx. 9.9 cm / 3.8" across - US$280.-- / a set of 5 pcs