Tokoname teapots
Home > Tokonameyaki

We ship quality handcrafted Tokoname teapots worldwide!
Amongst Japan's six ancient kilns (Seto, Shigaraki, Echizen, Tanba, Bizen and Tokoname), Tokoname is said to be the largest and oldest. Today, whereas many teapots are made using molds, these hand-crafted teapots are prime examples of skillful craftsmanship.
Tea brewed in clay teapots is said to have a sweeter, mellower flavor. This fact , coupled with superb craftsmanship and design, makes Tokoname teapots popular with Japanese green tea lovers. Tokoname teapots are recognized as the best of their kind in Japan, just as Yixing teapots are recognized in China.

Concerning teapot volume: Please allow some tolerance in the volume measurements of our teapots.
Due to space constraints we cannot measure every item as wet teapots have to be left out to dry for some time before being stored. When a large number of teapots arrive at the same time, same models of a similar size are grouped together and
a representative measurement taken. Because of the handcrafted nature of the products, some discrepancies might occur.
Thank you for your understanding.
Our hand-crafted Tokoname teapots selection
(click the picture for detail.)
Items with a

mark, come in a wooden box.

The volume of each teapot is measured at full capacity (ie. filled right up to the brim or just under the lid), so it does not correspond to the actual amount of tea you can brew in it.
The teapot you receive may differ slightly in appearance to the one shown in the photo.
This is because each piece is individually hand crafted.
Prices are subject to change without prior notice
For yuzamashi (a water pitcher for cooling water), click here!

Brewing Temperature and time of Japanese green tea by type
Matcha
176 F. (80C)
-
Sencha
158-167 F. (70-75 C)
45 - 60 sec.
Gyokuro
140 F. (60C).
90 - 120 sec.
Hojicha, bancha , genmaicha
Boiling water
30 sec.
For yuzamashi (a water pitcher for cooling water), click here!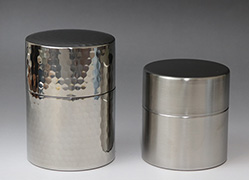 Stainless Steel Tea caddy / Canister
Caring for your Tokoname teapots

Use Tokoname teapots just as you would use porcelain teapots.
Rinse the inside with hot water after each use in order to eliminate the possibility of tea stains. Wipe the outside with a soft cloth and leave to dry naturally, right side up with the lid off. *Never place the pot onto direct fire.
Wiping with a soft, dry cloth gives a lustrous sheen to the pot and makes it even more pleasing to the eye. *Do not wipe inside the teapots.
Tokoname is a small city, situated in central Japan (right next to the newly built Centrair airport). Most of the houses in the historical area were traditionally painted black, so that they did not show the dirt from kiln fumes. It is said that Tokoname people did not realize that sparrows weren't black until they went to the next town and saw their true color. Nowadays, the black fumes which used to envelop the town are no longer evident., but the atmosphere and character of Tokoname's heyday lives on.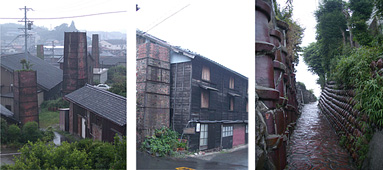 *Photos left to right - general view of Tokoname city, traditional workshop, walls made of clay pipes and pots bordering slope paved with pottery pieces.